Holidays near narrow gauge
and near free open air pool in forest.

Situated right next to
a cross-country skiing trail, ski slope
and several hills for sledging.

Holiday flats and houses in the Harz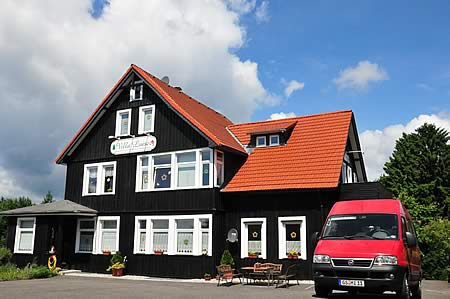 Welcome to Villa Luise! Here you find contemporary holiday flats and houses with modern furniture next to the forest. Villa Luise is situated next to the hiking trail and central to the narrow gauge. The open-air swimming pool surrounded by the forest is not only close the houses, but also free of charge.
In summer:
Staying on a wide-ranging estate with wonderful views over the Harz Mountains, you can enjoy a big garden for tea-time and a sunbathing area with an adjacent playground. It also offers you peaceful place to spend a romantic evening. Moreover you can make a barbecue or a campfire on our grounds.
Sun bathing, playing, relaxing, all that is possible at Villa Luise. Or you can take a swim at the open air pool in the nearby forest while enjoying a spectacular view.
The panorama route of the Harz is expecting you; look forward to taking a ride on narrow-gauge railway. It's ascending the Brocken while you will enjoy the breath-taking panorama. The railway is situated just three minutes from Villa Luise. In addition you can visit the stalactite caves, mines, cliffs with amazing views over the countryside of the Harz and many secret caves just a few steps from here. Walking maps can be purchased at Villa Luise for just 4 Euro.
In winter:
EA winter paradise awaits you at the door step. During your visit don't worry about snow on the roads, leave your car at our parking area, since everything is in walking. A cross-country skiing trail and a ski slope right next to Villa Luise and sledging mountains can be found nearby. Take your ski and enjoy the winter in the Harz!
There are restaurants within a radius of hundred meters. Then you can also find a ski rental of within 5 minutes of walking distance. The sleighs are provided by us. Local public transportation is offering free rides to Braunlage, where you can find skiing areas of the Wurmberg. A cable car is taking you up the mountain. It also takes you to an ice arena for skating or the free indoor pool, only the sauna requires a small fee. Moreover the Harz offers wonderful routes for mountain bikers and motor-cyclists.
Villa Luise – we would like to satisfy you!